Professional Development & Training
Upcoming Professional Development Opportunities:
Monday, September 14 | 5:30 – 6:30 pm | Free for all registrants!
Healthcare Career Pathways: Lessons on Adapting Adult Ed Healthcare Programs Virtually, Presented by MAACCE in partnership with Voxy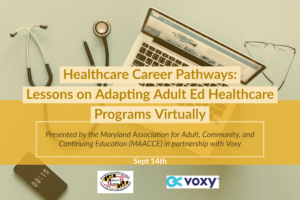 Join MAACCE in partnership with our friends at Voxy to learn about creating and adapting Healthcare Career Pathways to a virtual space! This workshop will review virtual assessment, recruitment strategies and partnership ideas. The presentation will be especially helpful for schools and programs with Healthcare career pathways, those of you with students interested in Healthcare career pathways, as well as Workforce Development Professionals, Adult Educators (particularly those with ESOL programs), and Program Administrators.
Space is limited, register today.
---
Access COABE 2020 Conference Resources Through November 2020!
Were you "all hands on deck" for this year's COABE Conference co-hosted by MAACCE? While this conference was originally planned to be proudly hosted in-person in Baltimore in April 2020, it was re-imagined as a virtual conference and presented with wonderful success in July 2020. The wonderful news for registrants is that all conference resources and recorded webinars are available through November 2020.
Please visit COABE's conference portal for access to this rich content while it is available.                                                                                                                                                                                                                                                                    
---
Resources for Adult Education Professional Development & Training: