Sep 24-30, 2017 AEFL Week
Sep 25-Oct 1 2016 AEFL Week Resources:
Mini Cards to hand out with Green Wristbands.
2015
National Adult Education and Family Literacy Week, September 21-26, 2015
Special Edition MAACCE Matters: GO GREEN Campaign for National AEFL Week
MAACCE Advocacy Chair and Strong City Baltimore adult learner on CBS Baltimore
See the Press Release:  MAACCE Leads Statewide Go Green Campaign for Adult Literacy!
THANK YOU for making AEFL Week A SUCCESS!   Our GO Green Campaign was a hit and the photos submitted by all were fantastic!
Thank you Congresswoman Donna F. Edwards, 4th District for the correspondence.  See the letter here.
State of Maryland Proclamation of Adult Education and Family Literacy Week, September 21-26, 2015
View the COABE Membership Update for a review of AEFL week activities and other information.
Lt. Govenor Rutherford presents Governor Hogan's Proclamation declaring September 21-26 to be Adult Education and Family Literacy Week in Maryland!
Congressman John Sarbanes Going Green with Board Members Cynthia Campbell and Sonia Socha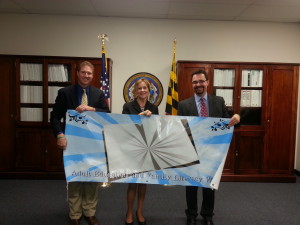 Assistant Secretary of Labor James Rzepkowski, Director of Adult Education & Literacy Services Patricia Tyler, and Deputy Assistant Secretary of Labor Brandon Butler
Highlights from the Week: 
View the Comcast Newsmakers Link featuring Yolanda Vazquez speaking with Sonia Socha, Board Member/ Advocacy and Communications Chair, Maryland Association for Adult Continuing Education (MAACCE), about the many options that are available for adults, in order to move forward with their education and in the workforce today.
Read the Letter to the Editor from Jean Van Hart of Calvert County Public Schools Adult Education Program.   This is from the Tool Kit….a great resource and easy, everybody can do it!
Press Release posting in citybizlist Baltimore and citybizlist Washington!
MAACCE President Heather Ritchie – Guest Blog on the Office of Career, Technical, and Adult Education, Ed.gov: From Teacher to Advocate
See our Press Release to kick off AEFL Week!  MAACCE Leading Maryland in Statewide Go Green Campaign for Adult Literacy!
The First Annual "GO GREEN" Campaign for ADULT LITERACY
 sponsored by MAACCE
 in celebration of National Adult and Family Literacy Week 2015
Details about the campaign including the following:
1. MAACCE Message for GO GREEN and National AEFL Week Campaign. (updated w/logo)
2. GO GREEN Mini card (wristband version and non wristband version) for copying and distribution.
3. GO GREEN Mini-Toolkit (wristband version and general campaign version). Within the Mini-Toolkit, you will find
 A sample letter to the editor. Please adapt and submit to your local newspapers/publications—both print and online —and then send MAACCE a copy if it is printed.
 Sample social media posts for you to use throughout the week.
 Instructions for sending MAACCE your photos, tweets, stories, and videos. Please send lots, so we can post and increase adult literacy's social media presence!
GO GREEN – help us make this an exciting week for our learners, programs, and adult literacy in Maryland!! Thank you!
Follow us on Facebook and Twitter to find out what other Adult Literacy education supporters are doing during National Adult Education and Family Literacy Week.  What will your program do to celebrate?  Let us know via Facebook and Twitter. Use #MAACCEgreen, #AEFLWeek, #adultedu.