Dedicated to Maryland
The Maryland Association for Adult, Community and Continuing Education is a non-profit organization providing leadership in Maryland for those interested in advancing education as a lifelong process. MAACCE provides a central forum for a wide variety of adult, community and continuing education groups. MAACCE encourages organizations and agencies in Maryland to cooperate in a broad spectrum of educational programs and activities in support of the lifelong learning concept.
Conference News
Press Release for 2020 COABE/MAACCE Conference in Baltimore
Announcements
NEW! Calling All Sponsors & Exhibitors for MAACCE 2018! Submit your interest by 4/15/2018.
NEW! Calling All Presenters! What will you share with the field during our 2018 Conference? Submit your proposal by 2/2/18!  
NEW!  It's time to send advocacy postcards to Governor Hogan and we need your help! Click here to order your postcards or download a PDF here. 
Fact Sheets for Counties/Regions and Congressional Districts.
MAACCE is participating in the Educate and Elevate Campaign to raise awareness about the importance of adult education.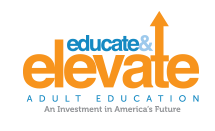 .