Dedicated to Maryland
The Maryland Association for Adult, Community and Continuing Education is a non-profit organization providing leadership in Maryland for those interested in advancing education as a lifelong process. MAACCE provides a central forum for a wide variety of adult, community and continuing education groups. MAACCE encourages organizations and agencies in Maryland to cooperate in a broad spectrum of educational programs and activities in support of the lifelong learning concept.
Announcements
Please TAKE ACTION and let Congress and the President know of the need to support Adult Education in the federal budget. Get your voice heard with a simple click to sign the Educate & Elevate petition and call your representatives now!
NEW!  MAACCE is Hiring! Candidates for our Administrative Coordinator position should apply by 3/5/18.
The MAACCE Board of Directors is currently seeking candidates for board membership and would love to hear from you. Interested members are welcome to reach out to current board members to learn more about the role and expectations of the position. Apply here.
Fact Sheets for Counties/Regions and Congressional Districts.
MAACCE is participating in theEducate and Elevate Campaign to raise awareness about the importance of adult education.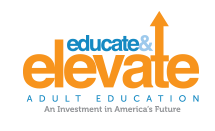 .